Road Test
East Coast Driving School
SATURDAY AND SUNDAY

ROAD TESTS
Note: We can SPONSOR you for your road test. The $199/$229 price for this is IN ADDITION to the RMV fees you will pay on the day of the test, and is NON-REFUNDABLE.
Why wait forever to get a road test at the RMV when you can take the test right here in Franklin!
We conduct Saturday road tests right here at East Coast Driving School in Franklin every month (exact dates to be determined month to month per Mass RMV)! Please note: These dates are subject to change due to RMV schedule changes! Please contact us ASAP to sign up.
Please note: We have no control over the RMV's schedule or policies, however we continue to make every attempt to schedule our Saturday road tests at the earliest available time slots.
Our Saturday road tests have been extremely popular. There is no wait as long as all of your requirements have been met. We typically conduct the test monthly, depending on the RMV's schedule. The test is conducted right from East Coast Driving School in Franklin. This is an additional (not required) service that we offer and is not included with the original tuition.

Register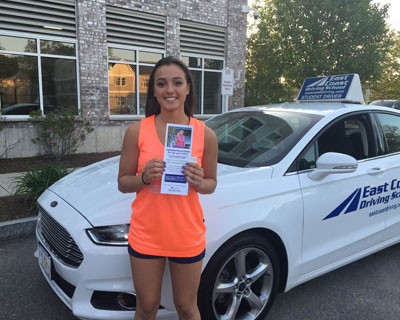 PLEASE READ !!!!
Call East Coast Driving School and let us know that you want to take a road test using a East Coast vehicle and instructor as a sponsor. We will contact the RMV and schedule the road test for you once we receive payment.
ALL STUDENTS NEED TO PAY THE $25 DRIVERS ED CERTIFICATE FEE UNDER THEIR STUDENT ACCOUNT. This is a required RMV fee that we will process through the RMV. Students become eligible for a road test at a minimum 180 days after the issuance of a permit; and a drivers ed certificate has been issued to the student. Student is Eligible for a Road Test 6 Months for the Issue Date of the Permit and all Driving Lesson's Must be Completed Approximately 2 Weeks in Advance of the Road Test they have Enrolled and road lessons must be completed approximately 3 weeks in advance of a anticipated road test. This is a RMV policy that all driving schools and the public must follow
Please Pay the road test fee online under the students account. This fee is $199 for East Coast Students. It is important to pay this fee under the student account to get the discounted rate. Non East Coast Students can also pay the road test fee online under Register for Road Tests ($229 for Non Students) This fee pays for the vehicle, sponsor, and road test examiner. the RMV charges us a convenience fee for the Saturday road examiners.) Students from other driving schools are welcome provided we have the space
RMV fees are $50.00 license fee and $35.00 road test fee. These fees MUST BE PRE-PAID in advance before the road test. They can be paid in person at the RMV at the time you get your permit or they can be paid online on the Mass DOT website.
857-368-8000


- From Massachusetts area codes 339/617/781/857

- From outside of Massachusetts

800-858-3926


From all other Massachusetts area codes not listed above

You will possibly be put on hold for a long time. * Please note, your permit will not become a license once you pass the road test unless all these fees are paid first.
We will contact you the week of the test to let you know the time of your appointment.
Please take the time to check to be sure your drivers ed certificate is posted on the RMV web site.

If you sign up to take the exam with East Coast, DO NOT BOOK ANOTHER APPOINTMENT ON YOUR OWN WITH THE REGISTRY, OR YOUR APPOINTMENT WITH US WILL NOT GO THROUGH. YOU CANNOT HAVE TWO SCHEDULED ROAD EXAMS AT THE SAME TIME.
Wherever you take your road test: A completed Massachusetts Registry of Motor Vehicles road test application must be presented at the time of he road test.
You can not take the road test without this completed form! You must bring this completed form with you on the day of the road test, along with your permit.
To check for your drivers ed certificate:
https://www.mass.gov/how-to/check-the-status-of-your-drivers-education-certificate